Dry Dock Services Middle River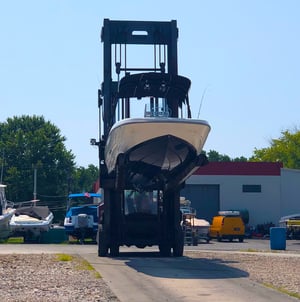 We currently maintain over 400 covered high and dry storage racks. We are located on Sue Creek, near the mouth of Middle River.
Our location gives the boater easy access to the bay with very minimal amount of 6mph limits. Our facilities offers the storage customer unlimited lift service, work racks with water and electric and security of the premises. We are able to handle boats up to 20,000 lbs. with radar arches and full canvas. Our rack fees and winter storage are priced to be the best in the area. There are restrooms and showers available also plenty of convenient parking. We have over 250 ft. of floating piers for worry free docking and three fork lifts to eliminate waiting. Just jump in and go!
2023 Winter Storage Rates for Non-Rack Customers
This is based on the time that you store boat until March 31, 2023. If the boat was kept in the water, it must be pressure washed first at $8.00/foot.
| | |
| --- | --- |
| Minimum Boats 16' to 25' | $22.00/foot |
| Boats 26' to 37' | $25.00/foot |
This includes haul out and launch plus we will move one time before launch. If additional moves are required to work on boat, there will be a $125 charge for each move.